Best Small Batch Soups in Indianapolis!
Welcome! And thanks for visiting us! We started this business in 2014 because we had a difficult time finding fast, delicious and healthy soup that didn't come from a chain restaurant and worse –a frozen bag :/ We love good soups and we carefully make all our food with fresh all-natural ingredients that result in amazing, flavorful and healthy food. 
We sell delicious grilled sandwiches and amazing salads too, so why focus on soup? ​The answer is simple and it's the reason we started this business.​ Soup is a quick, easy and delicious way to fit healthy food into your busy daily routine. In the back of our minds, we know we may not always be getting enough servings of vegetables each day. The delicious and simple solution is soup.​
We carry a set of 'daily soups' that we always have on the menu. These are our most popular soups that always have a high demand. These are easy to spot on our menu and they're all delicious.
We have over 100 recipes that we rotate through each week and throughout the year depending on the season and what ingredients are fresh and available. These soups are made in small batches and usually only last a day or two before they're sold out! Join our email list below or follow us on Facebook to see the daily specials. 
SMALL BATCH SOUPS
We're a small shop and we make smaller batches so that customers always know they're getting soup made with the freshest ingredients. The small batch size tends to incentivize customers who love a particular soup to come in early and grab a bowl.
DIETARY COMPLIANCE
One of the reasons our customers love us is our ability to design and carry soups that meet certain dietary compliance. Gluten Free? No problem – we always have GF soups on the menu. Vegan? Vegetarian? Whole30? Same answer… - we always carry soups that comply with these diets. We'll even deliver our frozen soups to your house! ​Just call us (not during lunch rush, please!) We answer q's like this every day.
Frozen Soups
We deliver our small batch gourmet soups to your door! Once or twice per month we make deliveries to various cities around Indiana. Look for your county and click on the upcoming delivery date, then select the different frozen soups you would like us to deliver to your doorstep!
Farmer's Markets
We participate in Farmer's Markets throughout the Indianapolis area. To make sure we don't sell out of your favorite soups, order frozen soups in advance and we will bring them to the Farmer's Market for you to pick up! We deliver frozen pints, quarts, half gallons and gallons of our soup throughout most of Central Indiana.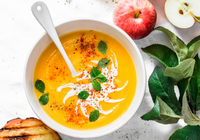 Our Philosophy
We were worried about our friends and family and the health impacts of eating processed food. There needs to be more options for people to eat quick, healthy food while at work or on the go. We can't help every American city, but we can help our own neighborhood with some healthy eating options, and that's what we do. 
A lot of our customers just think our food is delicious, - the healthy aspect is probably an afterthought for them. If they knew that the soups from every major food chain came in gallon bags, had ingredients and preservatives that read like chemicals, and have been frozen for up to 12 months, they'd probably be shocked. You don't have to worry about that with us. We're healthy and delicious.